Lockie & Lulu
Thursday, January 10, 2013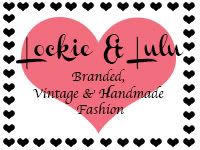 Lockie & Lulu is a wonderland of style beyond your imagination. It is BRANDED, VINTAGE, UP-CYCLED, HANDMADE. Their products vary from fabulous dresses, tops & bottoms, accessories, bags and a lot more. What I love about their style is that it also goes along between vintage and feminine with a modern twist.
They sent me this gold bangle that entwines like a snake with also very intricate details engraved on the metal. It just reminds me of a Grecian goddess--with the white toga dress and gold accessories and sandals to pair it with. It is a staple piece which can stand alone on the outfit and give it an automatic chic boost. I wore this last Christmas and New Year so watch out for those posts soon. I guess, this is also perfect this year and I will definitely treat this as my lucky charm. You want to know why? Because it is the Year of the Snake!
For more designs and information about Lockie & Lulu:
Like them on Facebook here
Follow them on Twitter here
Watch out for my interview with the person behind Lockie & Lulu tomorrow!